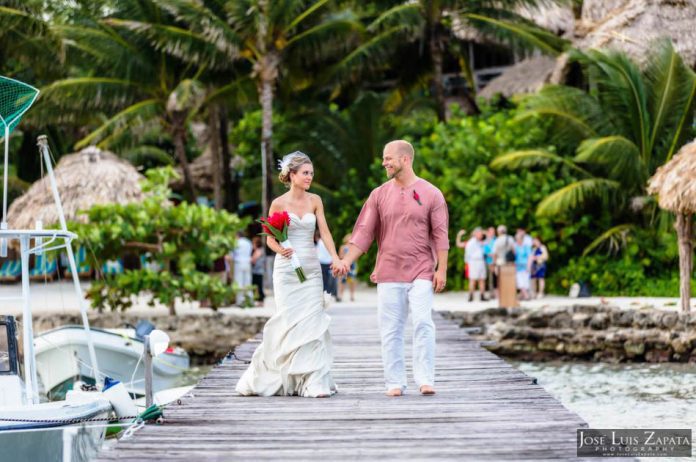 You can make your Belize destination wedding a dream come true by choosing the right venue. Whether you want to stay at a tropical resort or an elegant hotel, there are a number of options for you. However, you need to ensure that the location offers the amenities and services that you and your guests need. For example, if you want to have a pool and beachside bar, you need to look for a venue that offers such amenities. Moreover, you will want to be sure that the facilities are clean and that the staff is friendly.
Tranquility Bay Beach Resort
The Tranquility Bay Beach Resort is a fantastic spot for a Belize destination wedding. It is located on the northern side of Ambergris Caye.
This resort is unique for its location and for its access to the Belize Barrier Reef. A small fee is required to access the reef from the resort.
There are a variety of amenities to enjoy at the resort. One of them is the adults only pool. Another is the eco-friendly seagrass fence that goes off shore. Other features include the Serenity Spa and Wellness Center. These facilities will make you feel like you are at home in paradise.
Blue Marlin Beach Resort
If you're looking for an idyllic, tropical setting for your wedding, Belize is the perfect destination. There are over 400 islands, each ranging from tiny spits of mangroves to award-winning resorts. It's the perfect place to say "I do."
Located on the Belize Barrier Reef, Blue Marlin Beach Resort is the perfect place for an intimate destination wedding. This family-owned island resort has been serving guests for more than three generations.
The resort offers a variety of accommodations, from private beach cabanas to garden family suites. It's the only full-service resort on South Water Caye. You'll also find a funky bar with billiards and an exclusive waterfront restaurant.
Chabil Mar Villas
Chabil Mar Villas is an award-winning guest exclusive service luxury resort located on the beautiful southern Belize coastline. Its private beachfront setting and lush tropical gardens make it a perfect destination wedding venue.
Located on the Caribbean coast in Placencia, Belize, Chabil Mar combines Belize's rich traditions with modern luxury. The resort boasts elegant wedding packages, deluxe accommodations, and personalized services. In addition, the hotel offers a range of amenities, including two infinity pools, a private pier, a private beach, and a full restaurant.
Besides its stunning landscape, the resort also offers guests a wide variety of cultural experiences. The Chabil Mar staff works to ensure that every guest feels as if he or she is at home.
La Perla del Caribe
La Perla del Caribe is a private, luxury resort in San Pedro, Belize. It features everything from a white sand beach to a state-of-the-art gym to a gourmet dining experience. As an all-inclusive resort, you can expect to spend less on accommodations and travel. In addition, your stay will include free roundtrip airport transfers.
Among the resort's many offerings, the best is its white sand beach. The beach itself isn't large, but it is clean and barefoot friendly. Plus, the sand is free of seaweed. If that's not enough, La Perla has a free shuttle to Hol Chan Marine Reserve, which is a must for snorkelers.
Thatch Caye Resort
Thatch Caye Resort is an all-inclusive, tropical paradise, which makes it a perfect destination wedding destination. Located on a private island, it offers 11 acres of paradise with breathtaking ocean views.
Guests can also enjoy a variety of water-based adventures. The resort has free kayaks, paddleboards, and a natural saltwater pool. This property is also home to a bird sanctuary.
Thatch Caye is located along the Belize Barrier Reef. It's a short ride from mainland Belize.
Couples can choose from a number of ceremony sites and reception locations. The island has a "hidden gem" vibe. A barefoot wedding is possible on the powdery white beaches.
Victoria House Resort & Spa
Victoria House Resort & Spa is a tropical destination wedding venue located on Ambergris Caye, Belize. The resort offers luxury accommodations, a full-service spa, and a variety of other amenities to make your stay a dream come true.
While it is not unusual to be married in Belize, the wedding packages at Victoria House Resort & Spa provide a little extra something to give your wedding an authentic Belizean flair. Whether you are planning a ceremony with your family or a small elopement, this resort will be able to accommodate your every need.
One of the many things you can do at Victoria House is dive the great blue hole. The hotel boasts a snorkeling and diving center. Free kayaks and stand-up paddleboard rentals are also available to guests.