There are times, however, when you're on the go and you need to charge your Nintendo Switch's battery, but you don't have your dock with you. No matter if you're playing the Switch while it's charging or if you're keeping it in Standby mode, here is how to charge it in an emergency-and how to do it the best way possible.
The Official Way to Recharge a Switch – Without a Dock:
You will receive an official Nintendo Switch AC Adapter when you purchase the Switch and Switch Lite. This adapter is typically used to power the dock, which, in turn, powers the Switch. However, you can also plug the AC adapter directly into the Switch by unplugging it from the dock.
A Nintendo Switch AC Adapter will charge your Switch as quickly and efficiently as possible. As well as recharging the battery while playing, it also provides enough current to recharge the Switch while in standby mode, though at a slower rate.
You should either bring the Nintendo Switch AC Adapter with you or buy a second one for travel if you know you'll be using your Switch on the go. Alternatively, you may want to try an AC adapter from a third party, such as this one from Amazon Basics.
Nintendo states that all models of the Switch console take about three hours to fully charge in Standby mode when using the official AC adapter..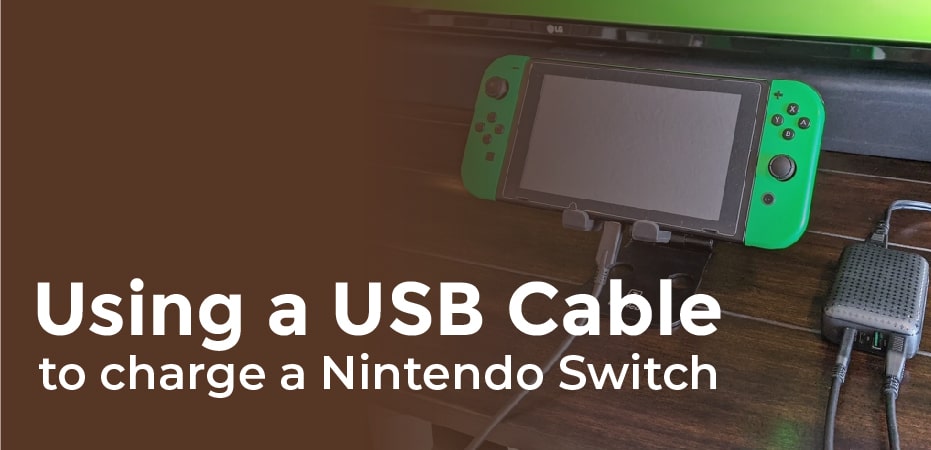 Using a USB Cable to charge a Nintendo Switch:
The charging port on the bottom of the Nintendo Switch is USB-C for all models. As a result, you can charge it with any USB-C cable connected to a power source, such as a tablet/smartphone charger, battery pack, PC, or USB hub. Based on the power source, how quickly the battery recharges (and whether it actually powers the Switch) varies greatly.
Any good USB-A-to-USB-C cable will work with a sufficient power source to charge the Switch. Due to the Switch's design, this method limits the maximum power to 7.5 watts. You can charge and play simultaneously, but not at the fastest rate.
The Switch also has a wattage-based charging mode which charges the battery more quickly. You'll need a USB-C-to-USB-C cable and a high-wattage power source (such as the MacBook Pro 61-watt USB-C charger) or a Switch AC Adapter.
Minimum requirements to charge while playing: To have your Switch's battery recharge, (even if slowly), while you play a game, you need a power source that can supply at least 5 volts and 1.5 amps (or 7.5 watts) of power. More amps are better for faster battery charging.
Minimum requirements to charge in Standby mode (without the dock): Nintendo doesn't provide an official lower-limit of current needed for charging the Switch in Standby mode. From our own testing, it appears the Switch will recharge from a power source that can output as little as 5 volts at fractions of an amp (such as 400mA/0.4 A), but charging will be slow.
Generally, the more Amps you have available, the faster the Switch will charge. The ideal output for Standby charging from commonly available USB adapters (like those you'd find at a convenience store) is around 5 volts and 2 amps.
Nintendo Switch Charging – The Technical Details:
Most people do not need to know how each Switch model receives power and charges in different modes. You can find a complex chart on Reddit that explores the various options for charging your Switch while playing if you want to dig deeper. A number of informal studies have been conducted on how much power the Switch consumes in different scenarios. It might be best to take these studies with a grain of salt, since they aren't official.