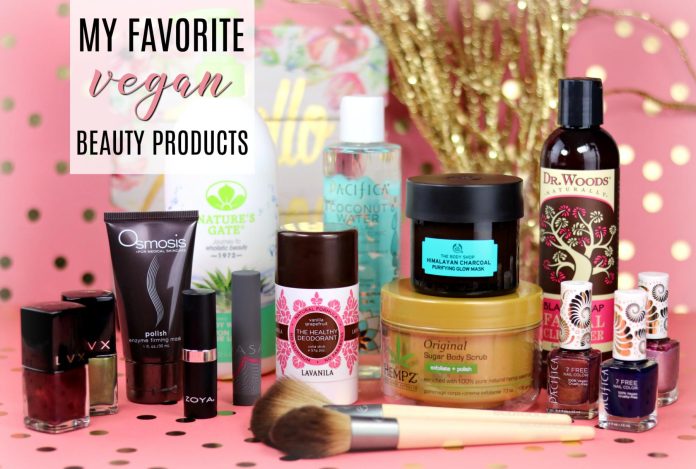 Vegan beauty products are formulated without animal ingredients, byproducts, or derivatives like honey, beeswax, lanolin, carmine, and albumen. They're also ecofriendly and often come in recycled packaging to protect our planet.
Shop our selection of cruelty free, ecofriendly vegan beauty products to add to your collection or try something new!
Cruelty-Free
Each year, millions of animals are harmed in the process of making skincare and makeup products. A cruelty-free label means that a brand has never tested their products or ingredients on animals, but it doesn't necessarily mean the product itself is vegan (or even vegetarian). Some common animal-derived ingredients include honey, beeswax, lanolin (wool grease), squalene (shark liver oil), carmine (crushed-up beetles) and gelatin (cow or pig bones, tendons or ligaments).
e.l.f Cosmetics is a budget beauty brand that's changing the game when it comes to clean, vegan and cruelty free beauty. Their $8 Poreless Putty primer and $14 Camo CC Cream have blown up on TikTok, while collaborations with Jen Atkin and the Angel City Pits give back to animal welfare causes.
Elate is another affordable and cruelty-free beauty brand that's making waves with its refillable blush and eyeshadow compacts. The LA-based, genderless brand uses high-performance plant-based ingredients to create makeup that looks good no matter your skill level.
Eco-Friendly
Choosing vegan beauty products helps the environment by not supporting animal agriculture which is a major contributor to greenhouse gas emissions. Additionally, most vegan brands use natural and organic ingredients that are less harmful to the environment than conventional chemical-based beauty products.
The plant-based skincare brand Korres offers a variety of cleansers, moisturizers and face masks. The company also uses a no-waste principle and utilizes renewable energy, as well as 99% recyclable packaging.
Biossance is a cruelty-free brand that offers a range of vegan facial products, including cleansers, serums and moisturizing creams. Their high-performing natural cosmetics feature bold and playful colors and are free of toluene, formaldehyde, DBP (phthalates) and camphor. The company also has a carbon neutral shipping program where they fund tree planting and reforestation projects.
No Animal Testing
As vegan and cruelty-free cosmetics gain popularity, companies are getting creative with how they communicate their commitment to these values. You might see different symbols and seals, including PETA's Beauty without Bunnies certification and the internationally recognized Leaping Bunny program that certifies products as being both cruelty-free and vegan.
Whether you're looking for clean cosmetics to help with acne, sensitive skin, or something to hydrate dry lips, the options are endless! Many brands are also reducing their packaging waste by offering refills and reusable tins. This reduces over-consumption and is environmentally responsible.
Other brands are using ingredients sourced from the Arctic (check out Skyn ICELAND) or even their own kitchens to create skincare lines that address specific skin problems. Women-owned vegan brands such as Nuria and Gypsy Soul Organics are also focusing on empowering women. And, finally, companies like Elate and NOTO are animal testing free, use natural ingredients, and have minimal plastic packaging. Their lipsticks and eye shadows are also refillable, so you can keep your tin and just replace the product.
Sensitive Skin
Skin sensitivities are on the rise, thanks to a dysfunctioning skin barrier caused by harsh environmental aggressors and many common beauty and skincare ingredients (think alcohol, fragrance, and mineral oil*). So it's important to swap out any products that irritate your sensitive skin. Start by cleansing gently with a natural foaming cleanser like this one from vegan drugstore brand Versed. It's infused with soothing eucalyptus and antibacterial vitamin E to keep your skin clear.
Finish your routine with a nourishing vegan milk moisturizer. This cruelty-free option by NYC-based brand Milk Makeup is formulated with oat milk to calm, argan milk to nourish and shea butter to seal in moisture.
You can also find sensitive skin vegan beauty options from eco-friendly and plant-based brands, such as Skyn Iceland, which uses glacial waters, botanicals and marine elements to heal dry and irritated skin. Try their mega refreshing Hydro Cool Firming Eye Gels, PS12. They'll hydrate and blitz dark circles for super fresh-looking eyes.