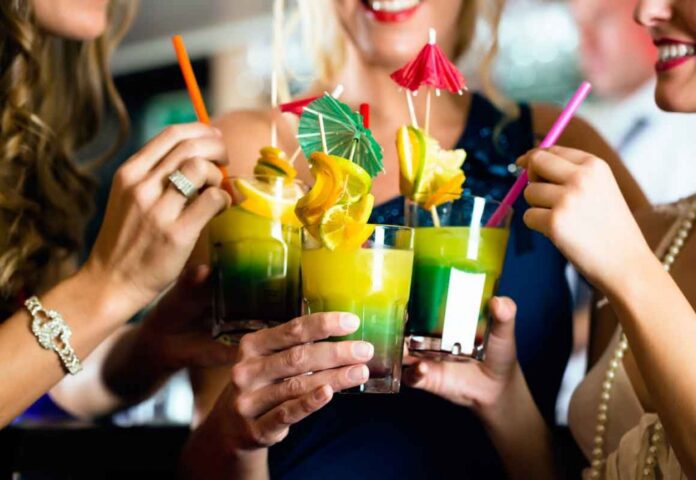 A cocktail party is meant to be short. You and your guests can get together for just a short time, reconnect, and still have most of the evening to yourself. And when you consider a shorter cocktail party to celebrate instead of a big party with drinks, dinner, and dessert, you might be looking at saving a little money. Consider some of these cocktail party ideas for your next birthday, graduation, or big event. Pick the perfect urbane cocktail party invitation, and you're well on your way to a sophisticated, grown-up party.
The Classic Cocktail Party
When you think of cocktails, the Martini is generally the first libation that comes to mind. Celebrate the Martini and its sophistication with a charming Martini invitation. Your guests will feel carefree right from the start. Treat your guests to an updated 'Martini Bar' with gourmet stuffed olives and garnishes. You might need to break out the bartending book to find some other great cocktails that need a revival and don't forget your lemon cocktail garnish
Custom Cocktail Party
If swank is not your style, but you still love the idea, you've got a few other options. Get your guests involved by making and naming custom cocktails for your guests. If your friend Jack likes vanilla vodka and chocolate, combine the two for a 'Jack-Hattan.' When inviting guests, ask them to RSVP with some of their favorite flavors. Stock your bar accordingly, and you'll be mixing up custom creations in no time.
Summer Cocktail Party
Once the weather turns hot, you'll need some cool beverages for your cocktail party. Margaritas are the perfect summer cocktail. Mix up the flavors with peach, mango, strawberry, or whatever fruity concoction. Another fantastic favorite on a hot summer day is the mojito. And don't forget a chilled fruity punch for an added kick. Add some finger foods or skewers from the grill you've got a red-hot summer cocktail party.
Cold Weather Cocktail Party
Winter doesn't have to put a damper on your cocktail party. Add a little heat to your next cold-weather cocktail party with spiked apple cider, egg nog, or peppermint hot chocolate. Sipping cocktails by the fire is a beautiful way to celebrate the cocktail and the spirit of the cocktail party. It won't matter if the weather outside is 'frightful.' You'll have a hip winter party to keep you and your guests warm.
Whatever event you're celebrating, a cocktail party might be an inexpensive and low-key way to enjoy the occasion. A few cocktails and some finger foods are all you need to celebrate the cocktail and the company of friends. And don't forget – just about any cocktail can be made into a 'mocktail' for your guests who want to join the fun but don't drink alcohol.