In Battlefield 5, EA has rolled out a Battle Royale mode called Firestorm. The all-out, last-man-standing survival mode you know and love combined with the vehicular mayhem and tactile gunplay you expect from Battlefield video games. You will still need to learn how some of the different systems work, even if you have played every other battle royal game out there. We have compiled this Battlefield 5 Firestorm Tips Guide for your convenience. There are some tips and tricks for you to keep up so that you can begin to rack up kills and victories left, right and center.
This page will be updated regularly with more information about Battlefield 5 Firestorm. The more time we spend playing Firestorm and as new updates are released, the more guides we will add.
Introduction of Battlefield Firestorm:
The Firestorm game mode is a battle royale game mode added to Battlefield V in the Trial by Fire chapter of Tides of War. DICE has partnered with Criterion Games to develop this game mode.
The Devastation of Rotterdam trailer formally introduced Firestorm at EA Play on June 11th, 2018. The trailer then appeared again in the Lightning Strikes update trailer.
The game mode is only available to Battlefield V owners and was released on March 25th, 2019.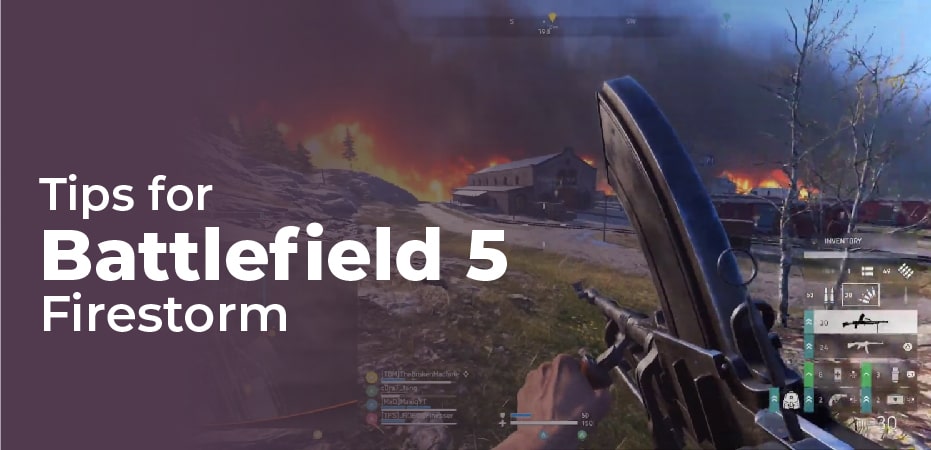 Tips for Battlefield 5 Firestorm:
The Battlefield 5 Firestorm launch may have only just taken place, but there are already a few things you can do to improve your odds of winning. There are some ways to take advantage of the new Firestorm mode, from choosing your class to using the storm to your advantage. Listed below are some of our essential Battlefield 5 Firestorm tips:
Maintaining your inventory: After landing, you will feel the urge to start collecting every item you see as soon as you land, just like in other battle royale games. While this is a good way to ensure you have a decent weapon early on, your inventory will quickly become full. In this case, you'll want to ensure you discard any ammo you aren't using, since you don't want to run out when you need it.
Destructible Environments:There's a lot of destructibility in the environment since it's a Battlefield. Make use of this by flushing out any pesky campers you run into.
Know the Storm: Firestorm differs from other BR games in how the circle works. Any building that is touched by the firestorm will be destroyed. If you are in a building that's about to fall down, proceed with caution.
Class camo: Firestorm has a problem with visibility, but there is a way to utilize it. You should consider the camo color when choosing a class, as many choices will provide better coverage than others.
The Doors:This can help identify buildings that have been accessed. Make sure you close the space behind you, unless you want your enemies to know where you are.
Brightness:Visibility is low in Firestorm. To remedy this, turn up the brightness. It will be especially helpful indoors.
Tanks: It is extremely risky to get tanks in Firestorm, and the process is very complicated. While the reward is a tank, they're actually surprisingly flimsy, so they're probably not worth it.
Pick Your Fights: Don't attack every foe you come across. A better strategy is to leave the area and return with better gear, or to avoid them altogether.
Gun Rarity: Getting to know your gear pays off, and given that each tier of each weapon offers a variety of buffs and bonuses, you will need to get familiar with Firestorm's weapon system.
Don't Be Stingy With Explosives: A common reaction of gamers is to be frugal with their items. Despite this urge, you'll need to restrain yourself, since explosives are incredibly important in Firestorm. Additionally, what good are all those rockets once you're dead