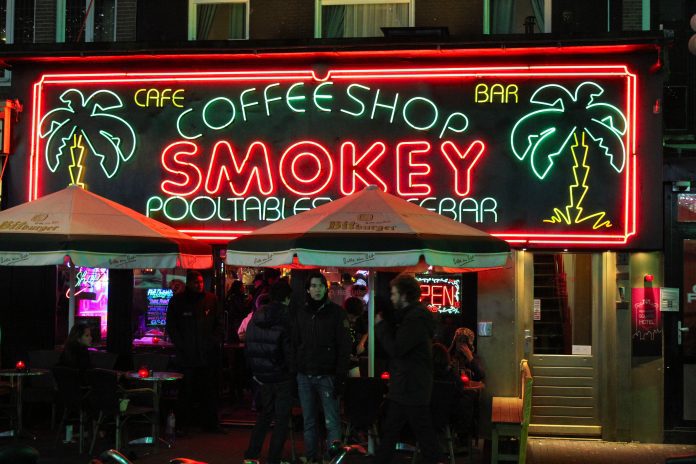 Coffee shops in the Netherlands are a cultural touchstone for the Dutch. While the term 'coffee shop' may be misleading, these establishments are not actual coffee bars. Instead, they offer cannabis products in a relaxed atmosphere.
The Dampkring is a high-end coffeeshop that sets itself apart from other Amsterdam coffeeshops, which tend to be dark and overcrowded. Its cozy interior is inspired by Arabic, Bohemian, and Buddhist influences.
Barney's
Located on Haarlemmerstraat, Barney's is one of Amsterdam's most popular cannabis coffee shops. It consists of three locations that are all within walking distance of each other. The main location is a coffeeshop and sells weed, while the other two locations are cafes that serve alcohol and food.
Derry Brett founded Barney's in the 90s after traveling the Himalayas with fellow cannabis enthusiasts to find authentic landrace strains. He brought this knowledge back to the Netherlands and opened Barney's Farm, which has become a renowned purveyor of fine cannabis seeds.
The main Barney's coffeeshop has a quirky aesthetic that balances with first-rate weed and service. It's a great place to relax, and the staff are always ready to help you select the best strains for your needs. It's also a great place to hang out with friends and enjoy the company of other cannabis lovers.
The Barney's breakfast bar is a good way to start the day, and offers a range of foods and drinks. The coffeeshop is often busy, so it's a good idea to visit it early in the morning or before noon. You can order a full breakfast, a glass of wine, or a joint, and enjoy the beautiful interiors. The bar is also a great place to meet other cannabis fans from around the world.
Boerejongens
Boerejongens is a coffeeshop in Amsterdam that has earned its name with its high-end, quality service. It is a small shop that has the look of an old Dutch pharmacy, complete with marble counters and gold touches. Inside, you'll find the budtenders dressed in white doctors coats and ready to help you with anything you need. The staff is knowledgeable and friendly, making it one of the most popular coffee shops in Amsterdam.
The coffeeshop is located on the edge of the city center and offers a comfortable, elegant atmosphere. It's a great place to sit and read a book while smoking cannabis, and the service is excellent. The staff is helpful and friendly, and prices are reasonable. It's also a good option for those looking to try new strains and flavors.
This coffeeshop is a bit of an anomaly in Amsterdam, as it's not as dark or overcrowded as other establishments. Guests can enjoy personalized service and the ability to order custom servings of their favorite strains. They also offer a variety of different products, from classic indicas to rare sativas.
Located in the heart of the city, this coffeeshop is open daily and offers a wide selection of products. It has a large outdoor space and offers free WiFi. The menu is extensive, and the budtenders are knowledgeable about their products. They even offer sample packs of their most popular strains.
Green House Centrum
This coffee shop is a must-visit for anyone looking to enjoy the best cannabis in Amsterdam. It has a unique atmosphere that is perfect for relaxing and enjoying your time. It also offers a variety of snacks and drinks to keep you fueled throughout the day. The staff at Green House is friendly and knowledgeable, and the shop is always a hit with locals and tourists alike.
This American-owned coffeeshop is located on Oude Leliestraat, a short walk northwest across the Singel Canal from Amsterdam's Royal Palace. Its facade is drowned in stickers of all sorts, and the interior features a small space on three levels with a window opening out to the street. The menu includes a wide variety of world-class strains, and the staff can recommend the best strain for your specific needs.
Another great coffeeshop in Amsterdam is Grey Area, which is known for its high-quality products and excellent customer service. This shop is often visited by celebrities, including Snoop Dogg, Kelis, and Cypress Hill. It is one of the most popular coffeeshops in Amsterdam and has a great location in the red light district.
The Dutch cannabis industry is regulated by the government, but each municipality has its own rules about where and how coffeeshops can be operated. Many municipalities have a "no-growth" policy, which limits new licensing for coffeeshops and prevents them from growing too big. Other restrictions include a ban on selling cannabis within 250 meters of schools, and a requirement that all users show an ID to buy marijuana.
Siberie
With cannabis being legalised in the Netherlands since 1980, Amsterdam is a hub for quirky coffee shops. Trying a joint at one of these has become a must-do for many tourists when visiting Amsterdam, and the city is packed with hundreds of them.
Siberie on Brouwersgracht is a nice place to relax, with a light and airy decor that's perfect for smoking weed and enjoying a drink. The staff is friendly and helpful, and the shop has a great menu. It also offers free horoscope readings and acoustic concerts on a regular basis.
Kadinsky in Rosmarijnsteeg is another popular choice among locals because of its talkative social atmosphere and friendly staff. This coffee shop has a modern interior on three small levels and opens its entire front on sunny days, so smokers can enjoy the view of the street while they relax with their drinks.
The Bull Dog is a chain with a few locations throughout the city, but their original shop on the Red Light District is the best of them all. This is a laid-back and relaxed environment that's open to tourists but still has a cosy and intimate feel.
The coffee shops in the Netherlands are alcohol-free and sell cannabis for recreational use to adults over 18. They also serve spacecakes (small portions of marijuana that produce an effect after about an hour), cartridges, filters, and other accessories.